What are Telescopic Handlers?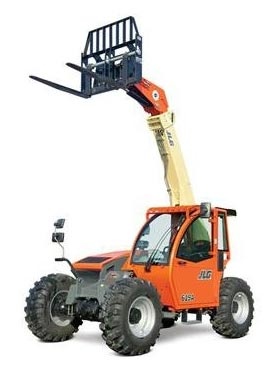 Telescopic handlers, or telehandlers, are commonly used in the agricultural and industrial fields. Similar to a forklift, telescopic handlers offer more of a crane feature than forklifts. More versatility and maneuverability is available, as telescopic handlers offer 90 degree rear pivot steering, hydrostatic drive trains, and the strongest booms available in the industry. Telescopic handlers are designed to lift and transport materials to heights of up to 55 feet. Various attachments can be fitted into the boom of the telescopic handlers, suck as buckets, pallet forks or lift tables. Telescopic handlers are more convenient. On even the most compact of job sites, an operator can turn tight corners and steer down narrow aisles with impressive speed and accuracy. The mid-mounted engine featured on the telescopic handlers offered at Bahrns ToyotaLift provide a more even weight distribution. This means our telescopic handlers are the perfect equipment for outdoor operation where muddy, rocky or sandy terrain might otherwise pose a problem.
Why JLG or Genie Telescopic Handlers?
At Bahrns ToyotaLift of Central & Southern Illinois, we offer five full-sized and three compact models of telescopic handlers produced by JLG. Their telescopic handlers promise power, versatility and innovation. Those are qualities we strive to uphold at Bahrns ToyotaLift, not just in our telescopic handlers, but in all of our dealings. Improved visibility, high-boom pivots, centered cabs and endless array of available attachments are just a few reasons to choose the telescopic handlers produced by JLG. Our knowledgeable staff has hands-on experience and trusts in the power and safety that the JLG and Genie line of telescopic handlers are capable of. We simply wouldn't endanger our valued customers and we trust that you will be in good hands with a fleet of telescopic handlers from JLG or Genie purchased with the Bahrns ToyotaLift warrantee.
Power in Telescopic Handlers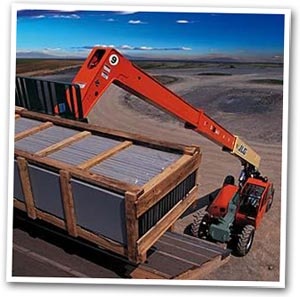 The telescopic handlers available at Bahrns ToyotaLift offer a massive load capacity to help you get your job done and get it done quickly. A centered cab promises more safety and stability. Our telescopic handlers offer more speed so that you can rest easy time is not being wasted as supplies are being relocated.
Versatility in Telescopic Handlers
The full line of telescopic handlers provide some of the tightest turning radiuses available. This means that our telescopic handlers are perfect for squeezing in compact spaces to accomplish the task at hand. Horizontal booms can elevate from completely horizontal to about 70 degrees and reach past 40 feet.
Innovation in Telescopic Handlers
Bahrns ToyotaLift want to provide the newest, the best, the most up-to-date technology that JLG and Genie have available. Our telescopic handlers come complete with sensors that warn when the vehicle has taken on too much. Our well trained and factory certified staff stays on the ball of new and exciting changes in our line of telescopic handlers. Feel free to come to them with questions on your search for information about your new telescopic handlers.