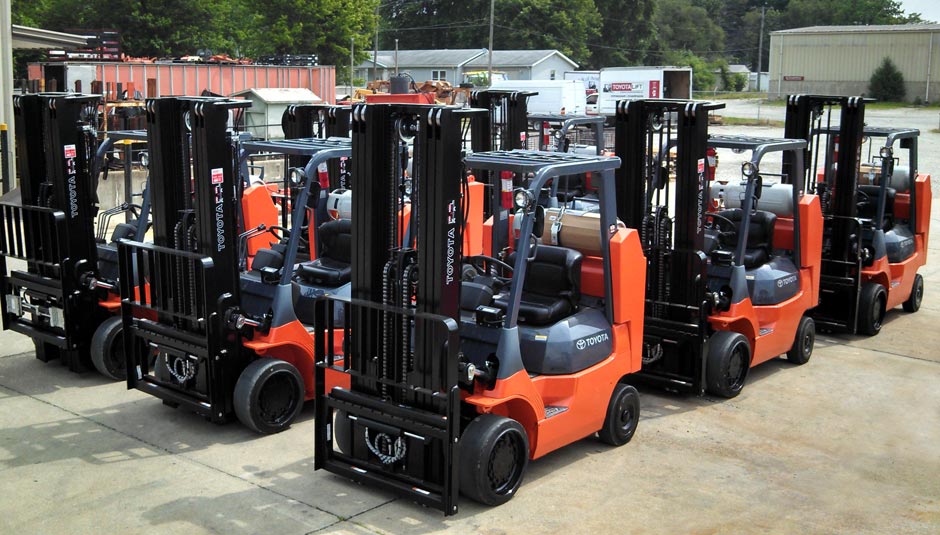 Forklifts Mattoon Illinois
Huge range of new and used forklifts
Serving Mattoon and all of Central and Southern Illinois
Premier material handling dealer since 1966
Bahrns is the Forklifts Mattoon, Illinois Advantage
Bahrns ToyotaLift, Central Illinois' premier materials handling equipment and
supplies service
, covers the Mattoon, Illinois area. This can only benefit the local business community. With parent company Bahrns Equipment and ToyotaLift behind them, the staff services, sells and
rents forklifts
in the Mattoon, Illinois area and can help you with all of your material handling needs. Bahrns Equipment covers Mattoon, Illinois with Forklifts sales and service and is proud to be able to offer the best line of forklifts in the world. Toyota forklifts need no introduction. Toyota established their line of forklifts in the U.S. in 1966, the same year Bahrns Equipment opened its doors in Effingham IL. That is not the only thing these two companies have in common. Toyota's goal from its inception has been to offer the highest quality products at the best possible price. The company policy is summed up in the words, "continuous improvement." These have been the Bahrns goal and policy as well.
Bahrns and Toyota Joined Hands
It only made sense that when over thirty years ago Bahrns Equipment decided to add forklifts to its growing catalog of materials handling equipment, they decided to partner with Toyota and establish Bahrns ToyotaLift in Central Illinois. It has been a perfect business relationship. By serving Forklifts in the Mattoon, Illinois, there is virtually no materials handling solution we cannot offer.
Add to that the vast catalog of industrial and warehouse supplies that Bahrns Equipment has built up over its four decades in business and you have a company that not only sells forklifts, but knows them inside and out.
Bahrns ToyotaLift sales and service for Forklifts in Mattoon, Illinois has a group of highly experienced individuals whose common purpose is to provide the best equipment, the best advice, the best service and the best prices to their customers. The advantage our service of forklifts in Mattoon Illinois industry is the backing and expertise of Central Illinois' oldest and most respected name in material handling equipment and the legendary quality of Toyota forklifts. Now that you know you can find the world's best forklifts for the Mattoon, Illinois area, why not give Bahrn ToyotaLift a call about Forklifts in Mattoon, Illinois and see what we can do for you today? CONTACT US!
Visit our Effingham Store
Take the short drive from Mattoon to Effingham and let us help you take care of your needs. Traffic permitting, the fastest route is via I-57 S. Our facility is located in the industrial area in the south of Effingham, a few minutes south of the train station along S Banker St. Find driving directions below.