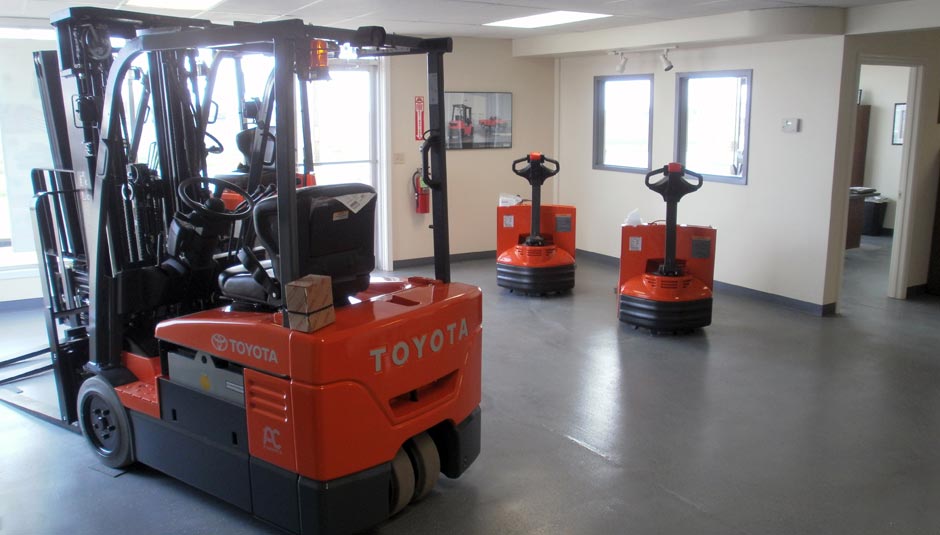 Forklift Rental in Mount Carmel
Huge range of forklifts to rent
All forklifts inspected and repaired by our service technicians
Rent the forklift you need when you need it
Bahrns Equipment was established in 1966 to service the materials handling needs of businesses throughout Central Illinois. To that end, the company has continually expanded, first by extending its operations and then by offering quality
new
and
used lift trucks
through its Toyotalift facilities. In response to overwhelming demand, we now offer
forklift rentals
for the Mt. Carmel area and other major cities throughout Central & Southern Illinois.
Some of the rental forklifts available for Mt. Carmel area include:
Class I, II and III electric trucks, including riders, narrow aisle and hand trucks.
- Class IV and V internal combustion lift trucks, including pneumatic and cushion tire. - Class VI electric and internal combustion tractor trucks. - Class VII rough terrain lift trucks. Every forklift in the Bahrns ToyotaLift of Illinois fleet is subjected to a rigorous inspection process before it is released for sale or rent. Our service technicians have all been factory-trained and have years of experience in their field. Nothing is overlooked or left out. When you rent a forklift from us, you can rest assured that you are renting a quality truck. Finally, Bahrns ToyotaLift offers this level of quality and service at a competitive rate. Not only will your forklift rental be the best quality you will find for the Mount Carmel, IL area or, but it will be the best value. You can choose between short term, long term or even rent-to-buy.
Contact
a Bahrns forklift rental representative today, find out about all your rental options and discover why Bahrns ToyotaLift makes such good sense. Give us a call or send us an email today. We would like to get to know you better!
Why Forklift Rental Makes Sense
For both large scale enterprises that already have fleets of forklifts at their disposal to small operations that rarely need a lift truck, forklift rental makes sense for a variety of reasons:
- Seasonal requirements often demand more lift trucks for short periods of time. It is more cost-effective to rent a forklift in the busy season than to buy one that will not be used in the slower seasons. - A forklift rental helps maximize productivity when you need it and minimize expenses when you don't. - Rental forklifts from Bahrns come to you in perfect running order, sparing you expensive maintenance costs. - A rental forklift can help you establish what your lift truck needs are before you commit to purchasing them. - When you have temporary special needs, a rental forklift can economically fill in the gap for you. When you rent a forklift from Bahrns ToyotaLift you are renting from a company with an unparalleled reputation for value,
service
and quality. Our long history in the material handling world is your assurance that you are dealing with a reputable company whose expertise in its field is unquestioned. No matter how long you have been working with lift trucks, your knowledge is probably limited to the types of lift trucks your operations have traditionally used. The Bahrns team, on the other hand, has hands-on experience with all classes of trucks, from 1,500 lb capacity electric walkies to 18,000 lb internal combustion work horses and everything in between. They are there to help you choose the lift truck for your special needs.
Forklift Rental Champaign, IL Forklift Rental Charleston, IL Forklift Rental Danville, IL Forklift Rental Decatur, IL Forklift Rental Marshall, IL Forklift Rental Mattoon, IL Forklift Rental Mount Carmel, IL Forklift Rental Mt Vernon, IL Forklift Rental Urbana, IL