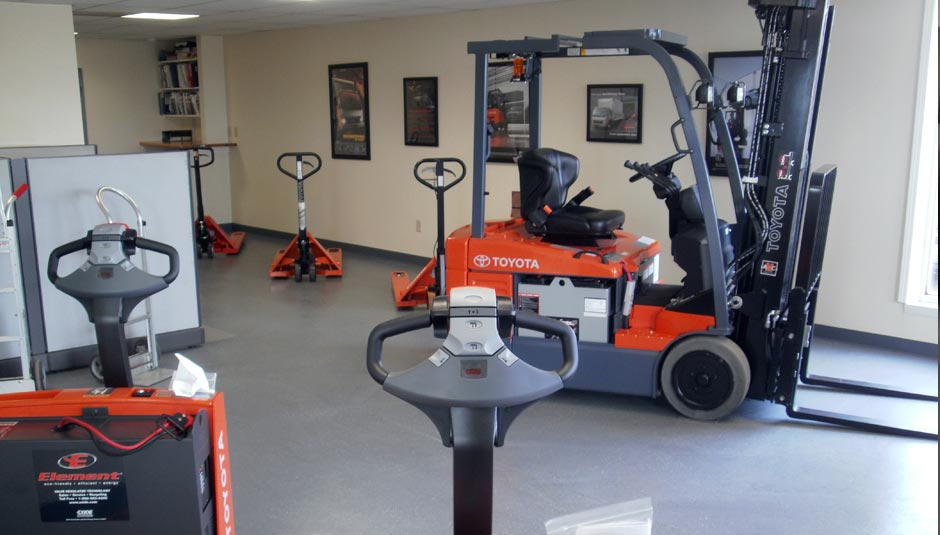 Forklift Rental in Urbana, Illinios
Huge range of forklifts to rent
All forklifts inspected and repaired by our service technicians
Rent the forklift you want when you need it
If you have a business that requires materials handling equipment in Urbana, Illinois, you will be pleased to know that Bahrns ToyotaLift, Central Illinois' premier materials handling equipment supplier, now offers a forklift rental service for the Urbana area. Established in Effingham in 1966, we have steadily grown and expanded into the area. Those who have dealt with Bahrns in the past know that they can rely on this company to provide them with the best materials handling products on the market at the best prices, backed up by unparalleled customer service. This is how we established our reputation and how it intends to maintain its reputation in Urbana.
Types of Available Forklift Rental
Unlike other forklift rental companies around Urbana, we do not have just a few standard cushion or pneumatic tire forklifts for rent. They can provide you with any class of forklift you need. These include:
- Class I Electric Motor Rider Lift Trucks - Class II Electric Motor Narrow Aisle Forklifts - Class III Electric Motor Hand Trucks or Hand/Rider Trucks - Class IV Internal Combustion Cushion Tire Forklifts - Class V Internal Combustion Pneumatic Tire Lift Trucks - Class VI Electric and Internal Combustion Tractor Trucks - Class VII Rough Terrain Forklift Trucks With large facilities available in nearby St. Joseph and Effingham, your Urbana forklift rental is backed up by Bahrns' ToyotaLift large scale operations, including their superb service facilities and experienced staff. Contact your forklift rental representative in St. Joseph today and discover the Bahrns ToyotaLift difference.
What Makes Bahrns ToyotaLift Forklift Rentals for Urbana Different?
The Bahrns ToyotaLift name is what makes the difference. Originally established as a warehouse supplies business, we continued expansion that led to the establishment of its ToyotaLift forklift sales business. Because Toyota's reputation for quality is second to none, it demands the same level of quality from those companies who operate under the ToyotaLift name. Before any used Toyota lift truck can be put on the market, it must undergo an exhaustive inspection to ensure the customer is getting a safe and properly running used lift truck.
This rigorous quality inspection procedure extends to Bahrns ToyotaLift of Central & Southern Illinois forklift rentals for the Urbana area and elsewhere throughout Illinois, whether they are Toyota or other brands of forklifts. Bahrns knows that every forklift rental that leaves its premises is an example of what customers can hope to find when they become Bahrns ToyotaLift customers. Another thing that makes our forklift rentals different is the company's expertise in the materials handling world. In its 45 year history, Bahrns has provided services to Central Illinois businesses of all sizes, from the smallest single owner establishment to the largest warehouses and industrial complexes in the State. Especially when they need to rent a lift truck, many businesses know only one thing: that they need a forklift. They often don't know what kind of lift truck they need. When they turn to our forklift rentals, they will get exactly what they need to get the job done.
Stop By Our Facility in St. Joseph
Our base in St. Joseph, where you can see our forklift fleet, is just 15 minutes from Urbana. Travel either by I-74 or County Rd 1600 N towards St. Joseph. From I-74 take exit 192 and turn left onto Co Rd 12. We are just 2 minutes up the road on the left hand side. From County Rd 1600 N, turn left to Co Rd 12 and continue for around 4 minutes when you'll find our facility on the left. Full driving directions are below.