If your material handling jobs include regions that are off-road, then without a doubt what is needed for the job is a rough terrain forklift. Bahrns ToyotaLift of Illinois deals in one of the oldest, most reputable, and one of the top rough terrain forklift manufacturers in the country, Master Craft. Building rough terrain forklifts since 1975, Master Craft is a family owned business that currently holds an 11% market share of the rough terrain forklift manufacturing industry in the United States. The bottom line is they are a builder of high quality equipment, and each and every piece of machinery that they build is something that is meant to last for generations. The company's rough terrain forklifts are no exception to this rule.
Rough Terrain Forklift History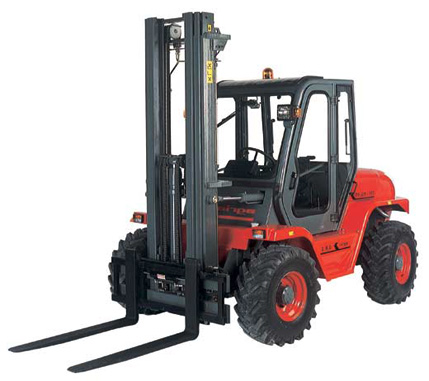 Rough terrain forklifts first came on the scene somewhere in the mid 1940's. Sporting deep treaded large pneumatic tires, rough terrain forklifts are designed for jobs where the majority of the work area has no paved areas available. This includes lumber yards, construction sites, brickyards, quarries, and many other outdoor areas that require moving materials over uneven ground, in both the civilian and military sectors. Master Craft offers three different lines of rough terrain forklifts: the American Eagle, the Tugger II, and the C Series. Depending on the model, their forklifts have a carrying capacity that ranges from thirty six hundred up to twenty thousand pounds. Each rough terrain forklift is built to order, and custom built forklifts are available and can be built to whatever your exact specifications are.
The first rough terrain unit came about when an attachment for lifting payloads was added to either a tractor or power buggy. Used primarily around construction sites, the earliest rough terrain forklifts could only lift about 1,000 pounds, and lift their payloads to a height of around 30 inches. Compare that to Master Crafts smallest line, the American Eagle, which has lift capacities from 3,600 to 12,000 pounds, and can lift it's payloads as high as 30 feet for some models, and we can see that rough terrain forklifts have come a long way since then.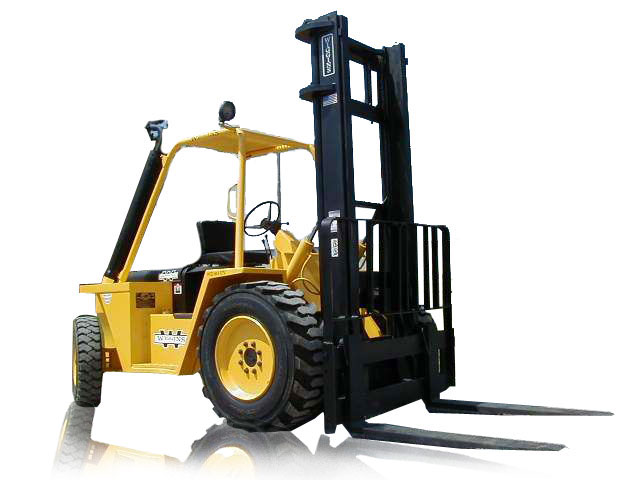 Need a little more lift power?
Then perhaps the C Series is what you are looking for. Powered by the Caterpillar 416E TLB module, with the Caterpillar standard 3 year / 5000 hour drive train warranty included, the Master Craft C-20-374 can handle payloads of up to 20,000 pounds.
Regardless of which specific rough terrain forklift you need, Bahrns ToyotaLift of Illinois is here to help you make the right material handling equipment decision. Our expert sales staff will work with you to make sure that you get the machinery you need to get the job done right.